We get it. Strategic planning can be an arduous process. Some of our clients have even questions how it's possible during these tumultuous times. But the fact remains that if you don't have a vision for where you are going, you surely won't get there by simply wandering through the desert.
In Verne Harnish's book called Scaling Up, he states that "Companies can get by with sloppy execution if they have a killer strategy or highly dedicated people willing to work 18-hour days, eight days per week." Now in Exotek's experience, far too many integrators rely on the latter. And, if so, as he notes that ultimately, "you'll end burning both cash and people if this is your process!"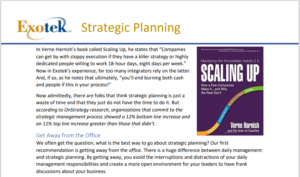 In our Strategic Planning brief, we cover the essential requirements for your strategic planning process including common tools, methodologies, and tips. Also, let us know if you would like us to facilitate your strategic planning process. Or, if you already have a one, consider asking Exotek to join your Strategy Team to gain an external perspective to help formulate and validate your plans. We're here to listen and help.
Next week, we discuss Strategic Execution … how to turn your vision into reality.