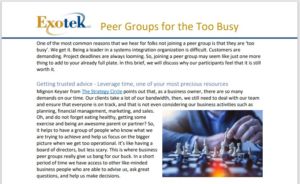 One of the most common reasons that we hear for folks not joining a peer group is that they are 'too busy'. We get it. Being a leader in a systems integration organization is difficult. Customers are demanding. Project deadlines are always looming. So, joining a peer group may seem like just one more thing to add to your already full plate. In this brief, we will discuss why our participants feel that it is still worth it.
Getting trusted advice from your peers
Insights from others who have 'been there, done that'
Just one break-through idea each meeting is worth it
Gaining confidence from others
Solace in common struggles can lead to collaborative solutions
Can be supportive during stressful times
For those that have been involved in the Controls Systems Integrator Association, there is an old adage 'give one idea to get ten.' That certainly applies to peer groups. When we consider all the value that we can derive from being part of a peer group, it's not a question of whether we are 'too busy' (we all are), but rather how can we not participate in peer groups. If you are ready to start reaping the rewards of participating in a peer group, let us know and we can explore which of our peer groups is the best fit for you or other leaders on your team.