Organizational Management
Helping your leaders foster your core values and culture, develop strategic plans, create and maintain accountability, create clients, manage finance and operations, and improve processes and quality.
Overcoming the 'Hurdles' of a Growing Organization
According Verne Harnish in his book Scaling Up, there are roughly 28 million businesses in the US, of which only 4% ever reach more than $ 1 million in revenue. Of those businesses, only about one out of 10, or 0.4% of all companies, ever make it to $ 10 million in revenue, and only 17,000 companies surpass $ 50 million. And, data indicates that there are similar ratios in other countries.
To successfully grow an SI organization, you'll need to build and empower a leadership team to overcome these hurdles. And, that leadership team will need to evolve as new challenges emerge. Exotek has worked with literally hundreds of SI clients to overcome these hurdles.
Building the 'Right Team'
Essential to solid execution is ensuring that we have the right people in the right seats. The right people are the ones who share our core values and thrive in our culture. The right seat means that our employee is operating within their area that fits their 'Unique Ability', a concept coined by Dan Sullivan in The Strategic Coach. When we are operating from within our Unique Ability, we feel energized and have a passion for what we're doing. But, what if we don't have the right person in the right seat?
Right Person, Wrong Seat – this likely happened because we promoted this person to a seat that is too big or does not utilize their Unique Ability. Often, this person has been around a long time, we like them, and believed promoting them was the right thing to do. Actually, we were hindering their growth and the growth of the company. Our job in this situation is to move this person out of that seat and into the right one where he or she will be successful.
Wrong Person, Right Seat – in this case, the person excels at what they do, is extremely productive, and is clearly using their Unique Ability. What makes this person the wrong person is that they do not share our core values. While we may think we can live with this in the short term, that person is chipping away at what we're trying to build, in little ways that, most of the time, we don't even see. It is that wry comment in the hallway, the dirty look behind our back, and the dissension that spreads. No matter how good they are at what they do, we must make a correct business decision here for the long haul and let that person go.
Wrong Person, Wrong Seat – Of course, the third type of people issue is that we have the wrong person in the wrong seat. The solution is obvious: That person must go. But, how we reached that point is not always obvious.
Organizational Management Engagements
Exotek can customize our engagements to work with your leadership team (or individuals) to enhance their leadership skills and traits. We can increase focus on accountability and results helping you to build a team that can build your company.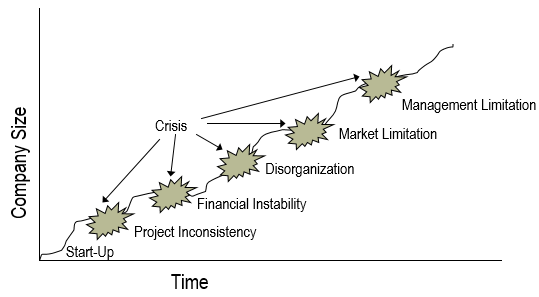 In another study by professor Larry E. Greiner's published in the Harvard Business Review entitled "Evolution and Revolution as Organizations Grow", he looks at the 'crises' that form common barriers for all companies … which we at Exotek have further refined for system integration companies in particular.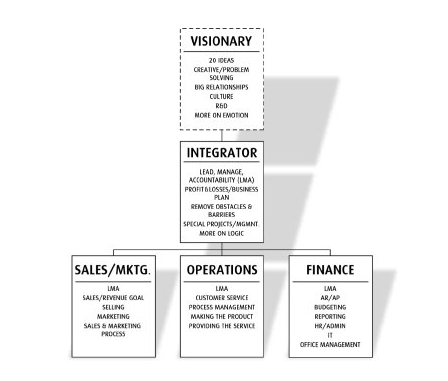 In Traction, Gino Wickman ascerts that all business have three major functions (sales/marketing, operations, and Finance/Admin). To create and maintain accountability, we must assign one person to ultimately be responsible for any major function within an organization. When more than one person is accountable, nobody is. They don't have to do everything, just accountable for seeing that it gets done.
The Traction Accountability Chart also defines the visionary who is very creative and fantastic with important clients, vendors, suppliers, and banking relationships. But invariably, the visionary needs to find an integrator, the person who harmoniously integrates the major functions of the business. The integrator blends that friction into greater energy for the company as a whole and frees the visionary to fulfill their role.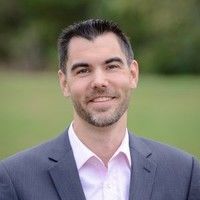 We've been working with Exotek on improving the performance of our leadership team. While some were skeptical of the Myers Brigg Type Indicator Personality Assessment (MBTI) at first, we were surprised at how accurately we were able to understand our personal strengths and blind spots. Exotek had extensive experience in using MBTI for leader empowerment and has worked to customize the approach to resonate with us engineers.  Working with Exotek on empowering our leaders has helped us gain new insights on strengthening our team's communication, and understanding how we can leverage each other's strengths and support each other's blind spots. It has even helped us with our client communications.
Chris Conger
Integrator, Erdos Miller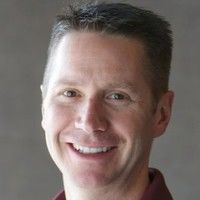 For several years, Exotek has worked with Avid's executive team on strategy as well as the development of our leaders. With deep industry knowledge paired with an effective coaching style, Exotek has been uniquely able to help our team grow and develop. I highly recommend Exotek for leadership development.
PC Romano
President, Avid Solutions
Let's Talk More about Empowering Your Leaders and High-Performance Teams